Susan Thorne
FBAcC LicAc
Tanglewood Clinic
Chinthurst Lane
Bramley
Guildford
GU5 0DR
t: 01483 893373
e: susanthorne@


tanglewoodclinic.co.uk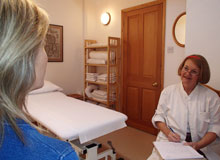 About Susan Thorne
Acupuncture is my second career having spent 25 years in the television industry. I have now been practising acupuncture for over 20 years and opened Tanglewood Clinic in 1996 when I married and moved to our small-holding.

My original training was a three-year degree-level course covering the concepts and system of '5-Element' acupuncture at the College of Traditional Acupuncture  -  one of the first acupuncture colleges in the UK. 

Subsequently I completed additional post-graduate studies of the theory of TCM (Traditional Chinese Medicine) at the College of Integrated Chinese Medicine. I frequently attend post-graduate seminars, workshops and conferences to continue my professional development, to enhance my practice and benefit my patients.

I have served on various committees of the British Acupuncture Council including their Governing Board and in 2009 I was elected Chairman of the Council for a three year term of office.
In 2015 I was awarded a Fellowship of the British Acupuncture Council.